My shops… yes there are three. Back in the day I worked from home due to my pidglets being lil and insomnia. I wanted to be with them, I didn't sleep so why the heck not? And I made a nice lil nest egg each month; back when I didn't really need it.
I was pulled out of work by my doctor due to a few pretty serious health issues in which I pushed my body too far. Unfortunately with that sprang a few other conditions to which I can now call myself crazy without being able to add (the good kind) at the end of that phrase.
With that being said I'm pushing, pulling, creating and coloring my shops towards the "I need them to work for me" status.
PidgApeg Cottage: My love, my wonder, my imagination and coloring outside the lines without rules favorite. Homespun and Prim crafts are of the heavens to me. I am in love with Shabby Chic and am continuing to add to that line. My seasonal line is on it's way and should be up and ready to go by mid-August. From there it will have a permanent place in the shop. I love creating and bringing my imaginings to a level of actually building pieces that are made with heart, love and a story.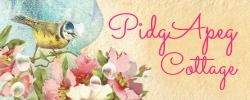 PidgApeg: (the softer side of jewelry) I think you realize I don't really wear jewelry but if I did I would wear these pretties. I keep my prices low because I want it to be affordable to everyone. My quality in supplies is as good as the over-priced shops but I being OCD will keep my shopping cart full for a week as I compare prices, quality and quantity until I get the best price for both of us. In addition to that I charge less for labor only because I love my job; which is creating for others.
PidgApeg Outloud

: Same goes for the supplies but this shop was inspired for a younger generation or the young at heart. My girls would see things they liked but they would be over-priced and/or fall apart easily. So I remedied that situation by creating a place they could shop while also displaying their individual styles to the world. I have an obsession with skulls, always have. I find them intriguing and artful and love the look of the human skeleton. Call me odd but I truly love the cameos I've chosen for this shop to display the feminine version of the skull adding a touch of vintage still to most pieces.
I hope that you enjoy browsing through them as much as I enjoy creating and filling these shops. Please if you might feel inclined pass the name along. I do work locally to avoid shipping and am always willing to tweak shipping for multiple purchases. You also do not have to go through my shops if you would rather not set up an Etsy account. Just shoot me an email and we can go from there.

PidgApeg@live.com
Thanks so much for visiting!